Swimming Surveyor X

We developed the new generation of the "Swimming Surveyor" as a web server, so it can be operated worldwide, directly via a tablet or smartphone, no matter where you are. Any tours can be planned via WebCADdy and transferred to the boat via the app supplied. All measurement data is stored centrally and can be visualized and synchronized in WebCADdy. The measurement results are also immediately available worldwide.

But also technically some improvements were installed. The power supply system has been revised and centralized (2-3 hours travel time depending on the current), the GNSS system is only installed as a multi-frequency (better and faster position by correction service e.g. SAPOS) and can optionally also be used in base/rover mode. Interference is thus largely prevented and a signal accurate to the centimeter can be received almost anywhere there is an Internet connection.
Of course, the GNSS system can still be used independently as a separate surveying system. Basically, we deliver the boat with a detailed one-day briefing on the technology and also on tour planning with WebCADdy.
Dates for the briefing or demo are individually coordinated.
Technical details:
Boat hull
Precision measuring boat also suitable for large waves consisting of:
Boat hull completely closed (except for battery compartments), ABS catamaran construction, approx. 10kg total weight and can therefore be used without an assistant, 2 powerful motors with up to 11.000 rpm and suitable controllers, suitable for running water operation (exception: strong white water), 3-blade Speed ​​screws with protective housing and sliding carriage.
Power Supply
The power supply consists of 2 units of LiIon batteries, 3S with 20.000 mAh, larger batteries can also be supplied on request.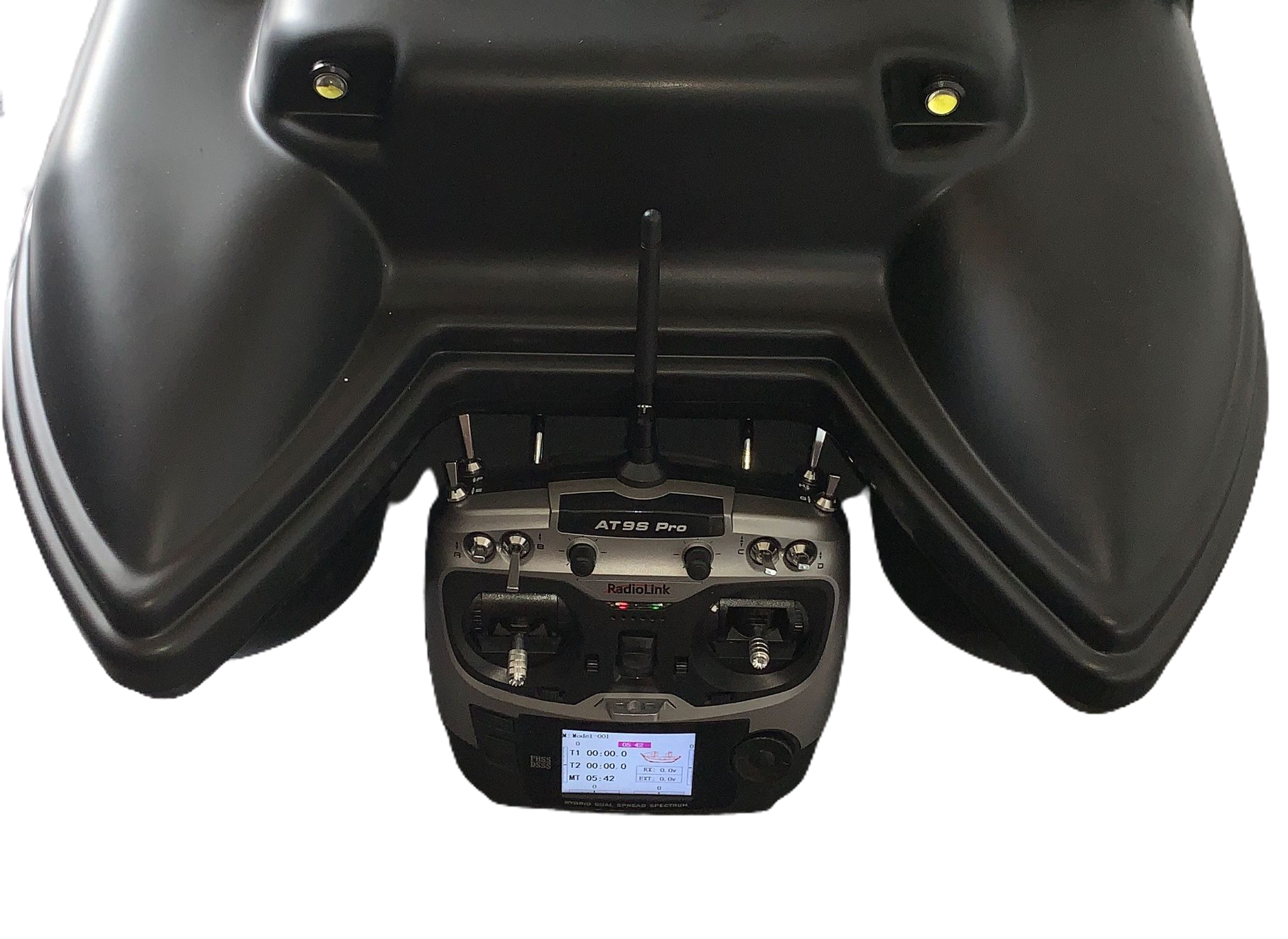 RC remote controller (remote control)
currently we use a high-quality RadioLinkRC for manual control of the boat. In addition to right/left and forward/backward, RTL can also be triggered.
Boot CPU
the boot CPU consists of an adapted Raspberry 4 version in connection with an LTE stick for access to the internet. If the internet connection is poor or non-existent, the boat can be operated locally via a WLAN connection. The automatic drive is processed via Pixhawk 4 with external compass and GNSS receiver. The CPU is separated from the GNSS in order not to emit any interference.
Sonar
The built-in sonar is permanently integrated and connected directly to the CPU. Currently, a highly accurate Airmar - EchoRange™ Single Frequency Smart Transducer. The first single-frequency product operates at 235 kHz. The single-frequency product has two separate communication interfaces: a bi-directional interface that conforms to the NMEA 0183 protocol with RS422, and a transmission-only interface that uses a proprietary protocol with RS485. The working accuracy is approx. +/- 9cm depending on the environmental conditions.
GNSS measuring unit (GPS)
As a measuring unit for position measurement, we use the modern multi-frequency receiver from EMLID RS2, which is connected directly to the BootsCPU. Technical data here.
Navigation system

A Pixhawk 4 is used as the navigation system, which works via Mavlink and is directly connected to the board CPU. Depending on the quality of the GPS signal, the navigation accuracy is 1-3 m (depending on the environment and satellite constellation).
WebCADdy Navigator
With the navigator it is possible to plan a tour precisely in the browser and transfer it to the navigation computer. When planning, you have the option of loading (connecting) different background maps, for example your own aerial photo that was created shortly beforehand. This allows the most precise tour planning to be created and carried out even in insufficiently recorded waters.
WebCADdy Pilot
This app (website) controls the entire boat infrastructure and starts or ends the measurement process. The data is immediately transferred to the WebCADdy GIS via the synchronization.